"I love being an artist! To be able to create is a gift that I am so thankful for".
Kelley Bowers, artist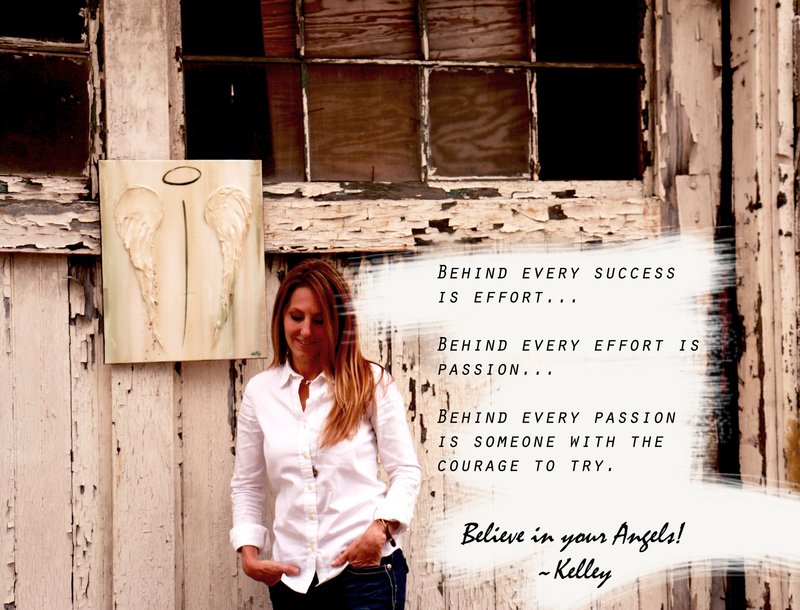 Kelley Bowers'
award winning angel wing art touches the hearts of so many people and brightens homes all over the world. While painting & creating has been her lifelong passion, it was in 1989 when her love for the arts and the beach took her to FLA to study at the Art Institute of Fort Lauderdale. Throughout her career, Kelley has exhibited at museums, festivals, and boutiques along the east coast. She has an artist soul & gypsy spirit which keeps things innovative and fun around the studio. In her own words, she says, "I feel so blessed to be able to do what I love to do. My angel wings touch hearts in so many different ways and for that reason, I am grateful for this talent I was given. Life truly is a gift and nothing should ever be taken for granted. I live each day with a paint brush in my hand, a happy heart & hopefully I bring a little sparkle to others."
2018 Fall Show Schedule                                                                                              
November 29-December 2nd:  43rd Christmas Collection. The Bizarre Bazaar. Richmond Raceway Complex, Richmond, VA. www.thebizarrebazaar.com 
 December 7th-9th:   Sugarloaf Craft Festival. Dulles Expo Center. Chantilly, VA. www.sugarloafcrafts.com
March 2nd-4th:        Sugarloaf Craft Festival. Handmade market. New Jersey Convention and Expo Center. Edison, NJ. 
March 16th-18th:     28th Annual Artrider Spring Craft Morristown. Morristown Armory. Morristown, NJ. 
March 23rd-25th:    Sugarloaf Craft Festival. Handmade market. Dulles Expo Center. Chantilly, VA. 
April 15th:               Red bank Street Fair. Downtown Red Bank (Broad St.) NJ.

April 27th-29th         Sugarloaf Craft Festival. Timonium, MD. Maryland State Fair Grounds

May 4th-6th:            Artrider Spring Crafts at Lyndhurst. Neo-Gothic Lyndhurst Estate. Tarrytown, NY. 
June 2nd:                Summerfest in the Park. Community Park. Point Pleasant, NJ. 
September 8th:        Brielle Day. Brielle Park (next to Brielle library), Brielle, NJ.
Click the links for more information & check back for additional shows to be announced...see you there!.